On June 1, 1974, the Center for the Implementation of Technical Progress in Power Engineering was put into operation. It was planned as a major center for specialized training of power engineers
On January 1, 1986, the center changed its name – it was transformed into the Department of Computer Science, Automation and Professional Development – ZIAD for short
On January 1, 1989, ZIAD became a state-owned enterprise
On July 1, 1997, ZIAD Bielsko-Biała and ZIAD Katowice became separate state-owned enterprises
On January 1, 1999, ZIAD Bielsko-Biała was municipalized
On May 1, 1999, ZIAD became a joint-stock company in which the Bielsko-Biała Municipality owns 100% of the shares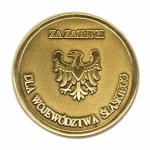 In 2018. our company was honored with the Golden Badge of Merit for the Silesian Province

June 2019. ZIAD Bielsko-Biała SA celebrated its 45th anniversary. Taking the opportunity of the anniversary, we produced a film that presents the relatively little-known history and rich achievements of our company in various areas of activity
Today, ZIAD is a municipal company with a capital of PLN 31,294,800 (paid-in)
GENERAL SHAREHOLDERS' MEETING

Share capital: PLN 31,294,800 (paid up)
Shareholding structure: Bielsko-Biała Municipality 100% shareholding
MANAGEMENT BOARD OF THE COMPANY
Dariusz Mrzygłód
CEO
Chief Executive Officer
PROSECUTORS
Grzegorz Jania
Commercial Director
Maciej Chrapkiewicz
Chief Accountant
SUPERVISORY BOARD.
Jacek Biel
Chairman
Zdzisław Dwornik
Vice-Chairman
Edyta Kurczyna-Klimosz
Member
Monika Biernot
Member
Krzysztof Koziołek
Secretary
General Assembly
Supervisory Board
Management
chairman of the board, chief executive officer
Health and Safety Inspector
Attorney Quality Management System
Data Protection Officer
Commercial Director
Marketing Department
Mountain Facilities Center
Hotel Szyndzielnia
Director Development and Infrastructure
Exhibition, Training and Innovation Department
Professional Development Center
Infrastructure Department
Główny księgowy
Accounting Department
Organization and Management Department
The company's main business areas
Organization of trade fairs, exhibitions and conferences
Organization of courses and training
Cable car service to Szyndzielnia
Operation of the Recreation and

Ski Center

Debowiec.
Hotel services
Rental of premises for service and storage activities
Lease of parking spaces for passenger vehicles and trucks
Leases of premises and parking spaces
THE COMPANY'S OFFER
rental of office and storage space
Rental of parking spaces for cars, trucks and buses
rental of areas for mass events
OUR ATTRIBUTES
competitive prices
attractive location
ample parking lots
trouble-free access
buffet catering
hotel
Currently, there are no tenders.