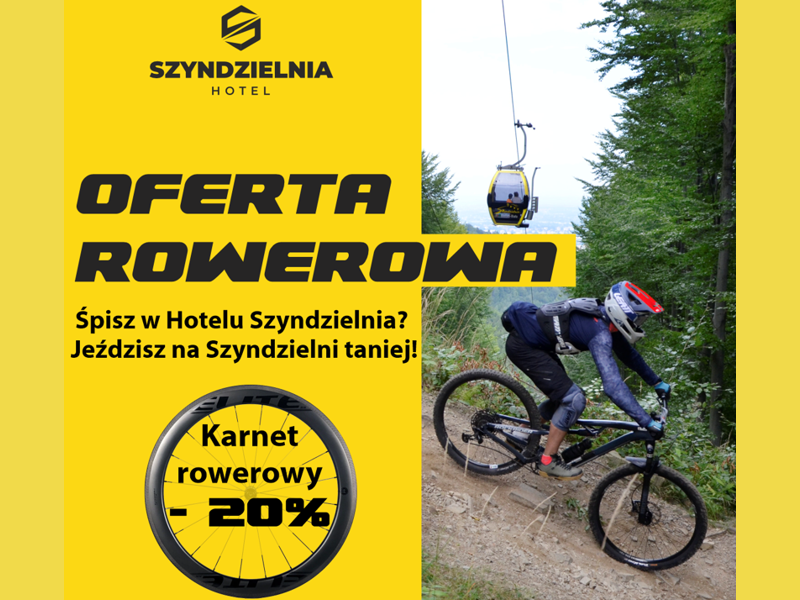 Cycling offer of the Szyndzielnia
Hotel
Enduro in the Beskids?
Do you sleep at Hotel Szyndzielnia?
– you ride on Szyndzielnia cheaper!
Bicycle pass -20% for guests of the Szyndzielnia Hotel.
A special promotion in the best place for cyclists – right next to the Enduro Trails and the Szyndzielnia Cable Railway.
Guests of the Szyndzielnia Hotel can pick up a discount voucher at the reception entitling them to buy a ticket at the ticket office of the Szyndzielnia Cable Railway 20% cheaper.
The promotion is limited, cannot be combined with other promotions – applies only to basic accommodation prices, does not apply to groups.
Applies only to reservations made directly with the hotel reception – by phone +48 695 675 655 or by e-mail recepcja@hotel-szyndzielnia.pl
Hotel Szyndzielnia is located in the immediate vicinity of the Enduro Trails bicycle paths in Bielsko-Biała and the Szyndzielnia Rope Railway.
From the top of Szyndzielnia you will set off on a network of 15 bicycle paths connected with the paths on Kozia Góra.
Information on the availability of trails at www.endurotrails.pl